Tetras are a fantastic creation of nature and have always been a famous aquarium fish. Tetras are beautiful, attractive, hardy, and easy to care for, and one of the types of tetra is Emperor Tetra. The Emperor Tetra (Scientific Name: Nematobrycon Palmeri) is a very attractive shoaling fish, having distinct highlights on its body. The fish have a yellowish, cream-colored body with a thick horizontal black lining/stripe that runs from its head to its tail. Along with that, the fish has reflective rainbow hues. These features make the fish ideal for an attractive aquarium.
The emperor tetra has a more royal effect than other tetras. These tetras have a much slower, ceremonial swimming style. Tetras are hardy and relatively inexpensive fish, which does not mean you can be careless while keeping the fish as your pet. They still require a bit of your care so that they can live the rest of their life in your aquarium healthy and happy. And this is what my whole article is all about "Emperor Tetra Care."
If you are looking for an elegant and quiet addition to your aquarium, the emperor tetra is an excellent choice. Find out more about these species in detail and understand their characteristics deeply in this article.
Origin, Habitat in the Wild and Distribution
Emperor Tetra is a small, peaceful freshwater fish of the Characidae family. They are primarily found in clear and slow-moving streams, rivers that have rocky, muddy, and sandy bottoms. The fish are not that wide-spread in the wild. You can find the fish living in groups in small tributaries.
These tetras originally come from the freshwater Atrato and San Juan river basins of Colombia in South America.
Emperor Tetras were imported to the United States in Aquarium Trade for the first time in the 1960s. Today, they are bred in captivity and distributed throughout the globe and do not fall in the IUCN Red List.
About Emperor Tetra
Emperor tetras are one of the most popular and ideal aquarium fish. This tetra has all the attributes that make them perfect for the aquarium. For instance, these fish are attractive, peaceful, and easy to feed. In addition to that, unlike Buenos Aires Tetra, these fish do not eat your aquatic plants, hence making it very easy to maintain.
Let us check out the tetra's appearance, lifespan, price, and the different conditions needed by the fish in detail below.
Appearance
Emperor Tetra has an attractive body-color with elegant fins. The fish has a body like most tetras that are elongated and flat from the sides. The maximum size of these tetras is 7.5 cm in length. The female emperor tetras can grow larger than the male ones.
These tetras have fins of yellow hue with black edges. The fins are red near the body. The whole body of the fish is blue-gray with mauve tones. You can also see a dark strip running horizontally across the body. The coloration is lighter below this strip.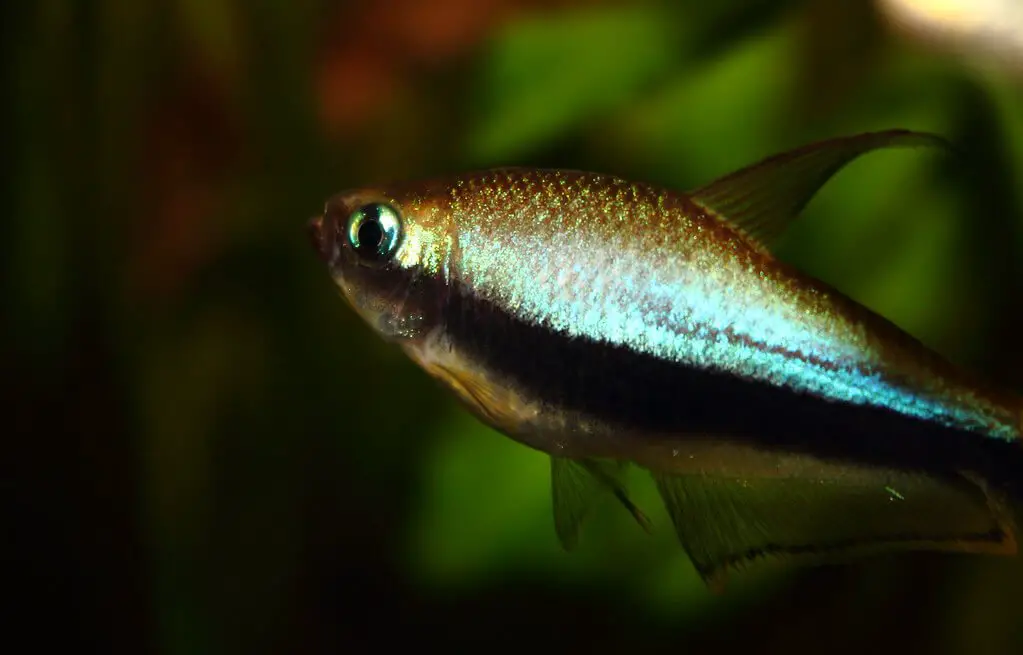 Availability
Many of the available emperor tetras come from the wild because these tetras are not listed on the IUCN Red List. However, the majority of these tetras come from fish farms nowadays, where they breed Emperor Tetra commercially. Due to this reason, these tetras can adapt to a wide range of water parameters.
In the wild, these tetras are available in the regions of Columbia, in the Atrato and San Juan River basins.
Price
Emperor tetras are schooling fish and need to be in groups of 6 or more. Therefore the cost of 6 emperor tetra might be $18; it will depend on your local fish store. However, they are not that expensive, and you can get them at affordable prices.
Life Span
In the aquarium, Emperor Tetra can live up to 5 years if cared properly. You must maintain the tank regularly if you wish to see them thrive in your tank.
Sexual Difference
In the case of most of the tetra, it's difficult to differentiate the sex of the tetra. However, it is not the case for Emperor Tetra; they are quite easy to distinguish.
Here are some characteristics that will help you determine the sex of Emperor Tetras.
The dorsal and caudal fins of the male Emperor Tetra are longer and more pointed than the females.
The males are brighter in color. The female has shorter fins, and they are not very bright.
Male emperor tetras have blue-colored iris, and the females have a greenish iris. The females have a rounder abdomen that helps them in carrying their eggs.
Social Behavior and Tank Mates
The tetras are very friendly and are compatible with different peaceful species. These tetras are territory dependent fish, which means that these tetras have one male alpha in a school. The male alphas are the ones taking the largest territory.
You must avoid large fishes as Emperor TEtra's tank mates, as the larger species can see these tetras as prey. You should also avoid having overactive fish with them as these tetras are shy.
Some of the compatible tank mates for emperor tetras can be danios, rasboras, other smaller types of tetras, and peaceful catfish such as Corydoras or smaller Loricariids.
Fish that come from similar regions as emperor tetras such as pencil fish and dwarf cichlids are also very good choices.
One last piece of advice to new hobbyists, "As tetra are schooling fish, always keep tetra in a group of at least 6. No matter what type of tetra you are planning to keep."
Fish Keeping Difficulty
You can keep the emperor tetras in the aquarium without any difficulties. These tetras are very easy to keep. These tetras are mostly kept in the school of 6 or more. If you are not able to put them in a group, they can bully other slow-moving fish on your aquarium, nipping their tails off.
Emperor Tetra is a hardy fish and can adapt to a wide range of water parameters. Hence, with proper care and maintenance of your tank, the fish is quite easy to keep. Therefore, Emperor tetras are beginner-friendly fish.
Care for Emperor Tetra
It takes a great deal of dedication to pet a fish. A fish tank is not just a beautiful showpiece or decorative item; a fish tank is the ecosystem of the fish that live in it. Therefore, taking care of the tank needs effort and passion.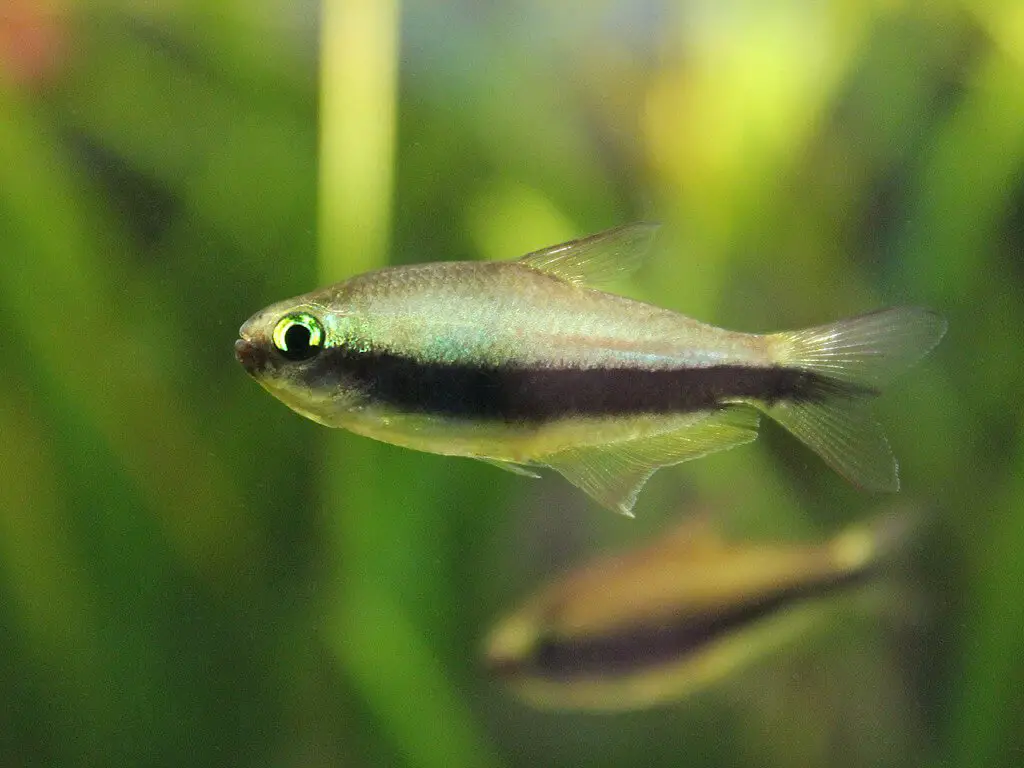 Fish are also living beings as humans. Sometimes, even when there are slight changes in our environment, it can adversely affect our health. When the weather changes, our bodies cannot handle sudden changes, and we fall sick. It is the same case with fish. When there are changes in the fish's environment, it can affect your fish. You should not ignore even the slightest signs of maintenance and care needed.
Like you need a decent place to live, fresh air to breathe, and a balanced diet, a fish needs them too. So, here in this section of the article where I will be guiding you on what emperor tetra fish need to stay happy inside your aquarium.
Tank size
Tank size matters a lot when it comes to fish keeping, as it is where your fish are going to live, right?
Emperor Tetras are schooling fish; hence they should be kept in a group. More fish means a bigger tank. A simple rule of thumb, one inch of fish, requires two gallons of water. So, if you are planning to keep a species in a fish tank, let's suppose 6 Emperor Tetra. Then you will need (size of fish*number of fish*2) –> (2*6*2) 24 gallons of free space in your tank.
Lightings
We usually keep tetras in soft lighting. The same goes for Emperor Tetra. As these tetras live in the same water conditions in the wild, you must replicate their natural habitat as closely as possible.
The lighting for the tetra should be dim and subdued. You will be able to achieve this by adding live plants and floating species.
Decorations and Substrate
It is important to decorate your tank with live plants as these plants can bring balance to the aquarium ecosystem by helping in consuming nitrate producing oxygen in the photosynthesis process. Thus, the tank should be densely planted. Also, green plants can make the fish colors more beautiful.
For the substrate, you should be able to add a dark substrate at the bottom of the tank. If you are planning to build a planted tank, go for aquarium soil.
Keep in mind that you should clean the decorations like rocks, driftwood thoroughly, or you can bol them to dis-infect before adding them to the tank in case of plants, clean it thoroughly.
Fish Diet
Emperor tetras, as other tetras, are omnivores, which makes it very easy to feed them. In the wild, these tetras eat insects, worms, larvae, and invertebrates. Whereas in aquariums, you can feed them high-quality flake foods or food pallets. You can also treat these tetras with live and frozen foods such as bloodworms, daphnia, brine shrimp, mosquito larvae, and black worms.
The foods should be only as big as they can swallow. You should only feed them with foods that the fish can eat within 3 minutes; otherwise, it will pollute the aquarium.
Maintain Water Quality
Although the fish are very resilient and easy to look after, it is necessary to maintain the environment of your tank. The tank is a closed environment, and you have to take care of them, regardless of the fish's adaptability to live in a harsh environment.
With time, due to the decomposition of organic matter such as fish poop, dead plants, and uneaten foods, the tank water slowly converts into a toxic environment for the fish. Likewise, during evaporation, the hardness of the water can increase. Therefore, every week you have to change at least 10% of the tank water. If you do not take care of this, your tank will be a septic tank, opening the door to various fish diseases.
Not only that, but you must also take note of the food, monitor various changes in the tank, like temperature, pH, and hardness, and act accordingly to maintain balance in the tank environment.
Continue reading to learn more about this.
Water Temperature
Always remember that your fish can behave differently at different temperatures. If you have a higher temperature, it can increase the activeness of the fish and their metabolism. If the temperature is low, the fish can get lazy, and their internal organs cannot function properly, causing them vulnerable to various diseases.
For emperor tetra, the water temperature should range from 23 to 27 °C. SO, use a good quality automatic heater that maintains your aquarium water temperature. Likewise, get an aquarium thermometer to monitor your tank temperature. This will help you to adjust your heater temperature to maintain your tank water temperature.
pH and hardness
The two essential tricks to maintaining the hardness and pH level of the water are:
Always use an air filter in your aquarium.
Change 10% of aquarium water once every week.
The technique mentioned above will also help in eliminating waste and other harmful gases from the aquarium water.
For emperor tetra, the pH level should be 5.0 to 7.5, and hardness should be 18 to 215 ppm.
To monitor your pH and water hardness, you can use Test Kits specifically designed to test the pH and water hardness of your aquarium water.
Filtration
Filtering aquariums is necessary for fish keeping hobbies. There is a cycle in your tank called the aquarium nitrogen cycle. This process helps maintain water chemistry in your aquarium. We use aquarium filters that contain bio-media to house beneficial bacteria to improve this process once the tank or filter is aged. The bacteria feed on harmful chemicals such as ammonia and nitrite and produce less toxic: nitrate. If you have plants in your aquarium, that's a plus point as plants use nitrate as fertilizer.
Water in the aquarium tank is still water, having no natural movement. When we introduce fish in this water, it does not hamper them right away. However, after some time, all the fish swims towards the surface of the water due to lack of oxygen. Hence, to regenerate the oxygen in the water, we need to use aquarium filters and air pumps.
Get a high-quality filter, which can circulate quickly and oxygenate the tank water. Water that is oxygenated helps filter tank waste.
Water Maintenance
You can use test kits available in the pet shop to test your water. You have to monitor the level of pH, ammonia, nitrite, and nitrate, and the hardness of your tank water, as those will affect your fish. Consider the water temperature of your tank, too. Make sure that you have the freshwater close to your tank water when you replace your tank water. You should not make any sudden temperature changes that can stress the fish and cause different diseases.
An aquarium filter can help remove all of the chemicals and pollutants from the tank, but will not be able to get rid of all impurities. Therefore, whatever type of filter you use, you still have to change the water to remove the pollutants that are harmful to your fish. Not just that, you will also have a small but additional task of cleaning the filters as well. Otherwise, your filters can get clogged.
Fish Diseases
The diseases in fish can arise due to various internal as well as external factors. Internal factors mean that your tank is diseased and polluted by poor quality water. External factors, by comparison, indicate the disease caused by the introduction of infected matter, decorations, or infected fish into your aquarium.
The emperor tetras are prone to various diseases such as ich, skin flukes, parasitic infections (worms, protozoa), bacterial infection and illness, and many more.
A good thing with emperor tetra is that they are hardy fish; if you deal with the disease in an early stage, you can minimize the damage it causes to your fish. Besides, the fish can recover very soon.
Breeding the Emperor Tetra
The fish are easy to grow in the domestic aquarium, but you must set up a separate breeding tank for any significant number of fish fry to live. For soft and acidic water, you should set the breeding tank dimly lit. Each breeding tank should consist of at least two females for one male because the males can get quite competitive and aggressive when spawning.
The temperature of your breeding tank should be 80 to 82°F. We should maintain the water parameters to a pH level of 7. The water of your breeding tank should be soft. You do not need to decorate or add any substrate in the breeding tank. The light should be dim in the tank. However, you need to add a spawning mop or java moss and dense floating plants in the tank.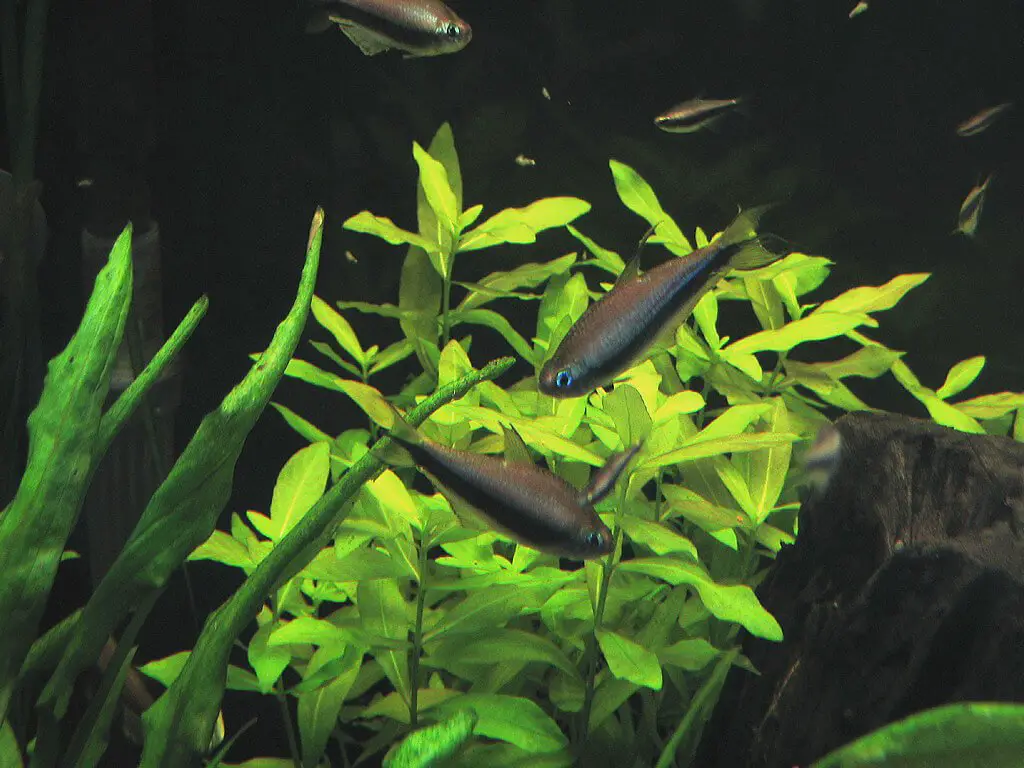 The females lay around 50 to 100 eggs over a period. Once the female produces the eggs, you should remove the parents as the parents have a habit of eating their eggs. The fry will hatch after 24 to 48 hours. Do not feed the fry right away. They will be carrying their food "egg yolks" in their belly. You need to feed the fry small foods like brine shrimp or infusoria once they start to swim freely.
Conclusion
Emperor tetras are very nice fish and a favorite of tetra enthusiasts. They will thrive in even moderately hard water as long as there are regular changes in water. I hope that this article can help you in caring for these tetras and provide them a deserving home.
Many aquarists try out different Tetra species to create an interesting, active, and aesthetically pleasing tank environment. If you are interested in similar breeds, check out our other articles.